Home
Site Map
About Us
Questions
Meet Our Artists
Search
Request Catalog
Comments / Requests / Post a message
Links
Store Locator
Contact
Login / Apply for Login





Dragonsite
Beautiful Vanities
Faerie Glen
Enchanted Art
Fairysite
Shop Figurines by Artist
Retired / Sold Out
Syrens of the Sea
All Items


View Your Cart


Meet Our Artists



Selina Fenech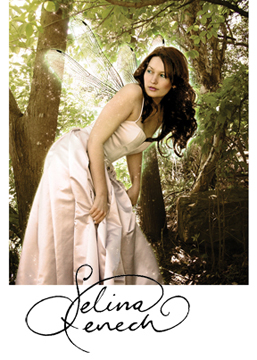 Australian artist Selina Fenech was born in 1981 and has always felt the burn of magic in her heart. Her daydreams of magical creatures and places were irrepressible, and goddesses, fairies and nature spirits started showing up in her artwork from a very early age. She has always had a great love and appreciation of the magic of nature, and frequently gets lost in mythology and fairytales which all inspire her greatly. While she always loved to draw, she didn't know she wanted to, or could, be an artist for quite some time. When she was sixteen years old she placed a few of her artworks in an online gallery and was amazed when fan mail and print and commission requests started coming in. Always wanting to please, and excited to be sharing her passion for art and magic, Selina began taking commissions and producing fine art prints of her work, and her art career has grown steadily since then, seeing publication in books and magazines worldwide and a range of licensed merchandise.

Rachael Tallamy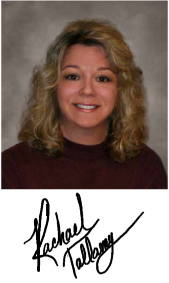 Rachael's desire for creativity and art was discovered at age 5 and she has been drawing ever since. Upon graduating high school, she obtained a science degree and is a Registered Nurse. She married her husband, Brian in 1993 and they have two wonderful sons. Remaining passionate about art, she became interested in digital art when she began restoring old photos in 1998. So, all the work in computer-generated images, have led her to digital painting, in which she has discovered her preferred medium and style for her portfolio and for clients. Most of her artworks are still sketched on paper, but are now scanned and computer painted for the finished details. In February of 2006, Rachael quit full time nursing to pursue art. Her preferred genre is fantasy, especially angels, fairies, and unicorns. www.rtallamy.com

Nene Thomas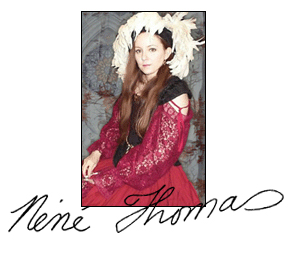 Nene Tina Thomas began her professional career in 1994, when she was approached by Wizards of the Coast to contribute work to the popular card game "Magic: the Gathering." Her work with Wizards of the Coast can still be seen in the Fourth and Fifth Expansions, Antiquities, Legends, The Dark, Homelands and the new "Magic: The Gathering" CD ROM Game. Some of the other card games that feature her work are Shadowfist, Legend of the Five Rings, Galactic Empires, Tempest of the Gods, Wyrmwars, Gridiron, Vampire: The Eternal Struggle, Xenophiles, and Battlelords of the 23rd Century.
Although Nene is known best for her work with watercolors, she has recently begun to expand her artistic horizons with other media, including digital. Nene has also written a few tutorials for Photoshop. But no matter what media is used, the core elements of her art remain constant: her characters have grace and elegance, her settings are striking, and the images as a whole are breathtaking. Nene's greatest artistic ambition is to be able to perfectly capture an image that she has in her mind's eye on paper. Over the last two years, Nene has had the good fortune to see her art translated into a variety of products, including statues, ornaments, stickers, and t-shirts. Her many products can be seen in several catalogs, in retail outlets throughout the country, or on her website. The retail success of her art hasn't changed her focus however, and with each new piece she strives to push herself as an artist. Nene currently lives in Oklahoma City with her husband Steven Plagman, who is also her framer and fancy mat cutter. She has three sisters and two brothers, all of them artistic and musically talented. Nene spends her days sketching, researching, painting and playing with her five cats.

Linda Ravenscroft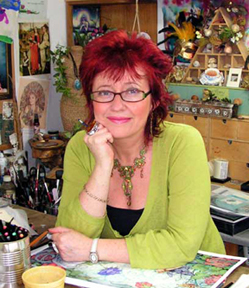 Linda was born in 1963, a very typical Pisces, always preferring to live in a dream world, a world which she has painted in ever since she can remember, and one in which as a child she could retreat to when ever things became tough. Linda lives in Cheshire, England with her husband and daughter and numerous pets. Linda's inspiration comes from many sources rooted in her childhood – dreams, inner feelings, love of nature, and the wonderful tales of myths and legends her parents shared with her at bedtime. Linda truly believes that we all have a little bit of Faerie magic within our hearts, helping us to make the right decisions within our everyday lives. We just have to look for it.

Linda Biggs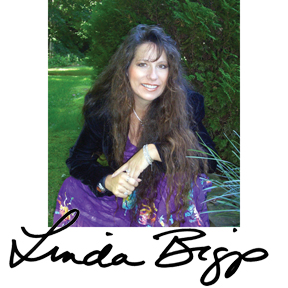 Linda Biggs was born and raised in Maryland, USA. She has always loved fantasy and lived in a dream world as much as she could get away with. After a long career in advertising, and corporate commercial printing in Baltimore, she retired and began her new life as a full time Fine Artist in 1999. She launched the website Fairie Forest Watercolors and began to market her work. Since then, it's been an amazing journey every step of the way. Linda has experienced so much wonder through her art. She has met and befriended many like minded folks, and will treasure those experiences for a lifetime.


Linda is Native American (Cherokee), very spiritual, sensitive and oh yeah...Bi-Polar. Many people see that as a curse; however Linda embraces it as a gift. When times are extreme her creations are at their very best, so far that she welcomes the challenge.
In the beginning of Linda's Fine Art career, it was about painting pretty fairy pictures. Now with the inception of each painting, Linda's goal is the dig deeper and step out of her comfort zones. When she painted "Lady Bug-Koko Korrani Spirit" It was quite a challenge – and it is the painting she is most proud of. Her hope is that in years to come, her paintings will tell the simple story of her life. They are real life experiences transposed as art. These paintings will be a simple gift to anyone who enjoys them.

Jessica Galbreth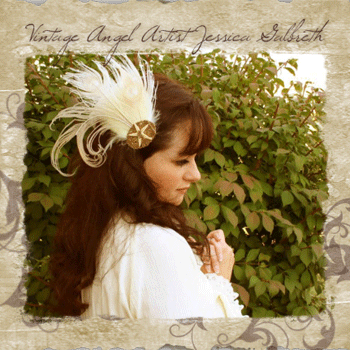 Contemporary American artist Jessica Galbreth began her career in 1999 with a modest web site after attending the University of Toledo's Fine Arts program with a focus on drawing and painting.
Over the years, Jessica's fantasy art, named the Enchanted Art Collection, became well known throughout the world. He work was translated into hundreds of different products from greeting cards to collectible resin figurines, and everything in between, and was sold in specialty gift shops and retail chains. She won numerous awards for her work, and continued to gain popularity world-wide. With distributors in the United Kingdom, Australia, Canada and Germany, Jessica truly became an internationally acclaimed fantasy artist. Her work was even featured in the movie Nights in Rodanthe starring Richard Gere and Diane Lane!
"Your talent is Gods' gift to you, what you do with it is your gift back to Him. In all things, seek to give Him glory, for all good things come from above"
In 2010, Jessica experienced a shift in her personal faith. After becoming a Christian and trusting Jesus Christ as her Lord and Saviour, Jessica turned a page in her career and started what is now known as the Vintage Angel Collection, seeking to use her artistic gift to give glory to God's kingdom. Jessica retired her Enchanted Art Collection, feeling that it no longer represented who she was. She now created exclusively for her Vintage Angel line which is comprised of angelic images celebrating light, hope, faith and love. Jessica understands that angels transcend religious barriers with a common sense of peace and wonder, and hopes that her work will touch others from many walks of life.

Jacqueline Collen-Tarrolly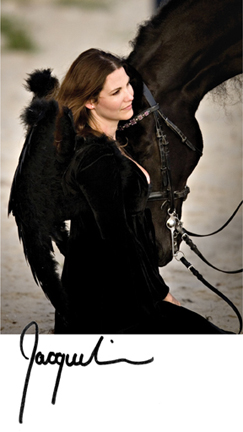 Always a bit of a misfit as a child, Jacqueline began painting as a way to express the fae she saw in the trees and hidden places of the world. Since her first professional entrance into the scene of fairy art, her work has appeared in numerous books and publications and can be found on a myriad of gifts such as magnets, stickers and keychains in shops such as Hot Topic, Claires, The Icing and others. She is a regular vendor at the Southern California Renaissance Pleasure Faire and the Northern California Renaissance Faire.


In addition to her own website, Toadstool Farm Art, and this one, she manages an artists co-operative wholesale group, The Fairy Court, and two other collective art websites, Mystic Minis, and My Fairy Baby.
She now lives in a storybook cottage in Los Angeles with her husband, teenaged son, an assortment of wild and domestic animals, an ever changing clutch of fairy folk, and one brand new beautiful little fairy baby girl named Antonia. She remains a misfit.

Christine Bowman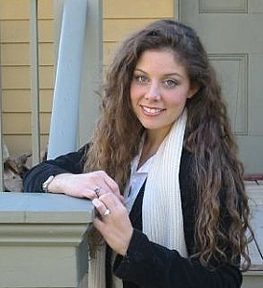 Christine is a mermaid, wildlife and fantasy artist residing in St. Peters, Missouri. Christine has been intrigued and inspired by wildlife and fantasy from an early age so it seemed only natural she would follow her free spirited side and form her own company for her passions. Christine feels very lucky to have worked with a variety of companies who have put lines of products together for her mermaids. She currently has a bath and body line, a cross-stitch line, t-shirts, tote bags, prints, giclees on museum wrapped canvas and much more. Christine's painting "Aurora" is her first piece of artwork done in figurine form.

Andrew Bill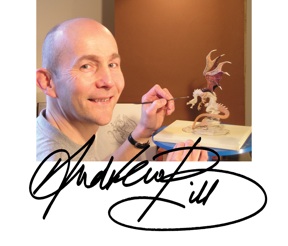 Wizards, Dragons and Crystals - I was born and raised in Brewood, Staffordshire. Attained an Upper Second Class Honours in Ceramics at Stafford College of Art. I started my sculpting career at Coalport China producing mice and wildlife for resin, and Cottages and Victorian style pastille burners for bone china.


With Holland Studio Craft I began with wildlife, dogs and farm animals and then in the late eighties, after failing to get the rights to produce Lord of the Rings figures, I was given the brief: "think up a fantasy range of your own, anything you like as long as it includes wizards, dragons and crystals!" – ah those immortal words. So, I had the idea of using the four seasons as the initial concept: one colour to represent each season, one wizard, one dragon, one crystal for each colour. That was four dragons, four wizards, four different crystals already, and I had only just started. This of course was Enchantica, and my artistic life was never to be the same again. That was nearly twenty years ago. Dragons have dominated my art ever since.
I have traveled across North America with my wizards and dragons, and of course the length and breadth of the UK. I have met many people who share my passion for fantasy, and in some cases far exceed it. I have made some good friends and strong memories. I have even appeared on live TV shopping channels on both sides of the Atlantic with my work, and taken part in major collectors events attracting thousands of eager fantasy fans.
As a freelance sculptor I have continued my career in fantasy figures. Much of my work can now be seen with The Dragonsite.com, where I have enjoyed new artistic and technical freedom, and produced pieces of a much greater complexity. With ranges such as verbuMMagus, Bookwyrms and Seven I have once again given my imagination free rein, and endeavored to produce art figurines that both excite and beguile the discerning fantasy collector.
I still explore other areas of interest occasionally and have not abandoned completely my great interest in wildlife and the environment, but the boy who was addicted to Doctor Who, Ray Harryhausen films and later Hammer Horror still calls to me, and its never long before I take his hand once again and let a new fantasy adventure begin!

Amy Brown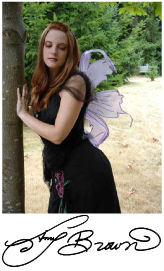 I started painting Faeries in 1992. I'd always been interested in them, but had never considered them to be a career option, until one day when I was not quite twenty-one and working in a small art gallery. My boss asked me to paint something to fill an empty frame that had been sitting around. I asked her what I should paint and she said "I don't know, paint a Faery or something". So I did. Three days later the piece sold. So I painted another. it sold. And I painted another. It sold too. You get the picture. I began painting Faeries whenever I had spare time. Rapidly I became more and more drawn to painting them. They demanded it. The years shoved their way past me and I kept my head down, painting, painting, painting and not paying much attention to the rest of the world unless I absolutely had to. It was like the Faeries had taken control of me and were pushing me to paint their portraits and perhaps to let the world know they are watching.

After selling prints and originals at street fairs and in local shops for a few years, I opened a website and began selling my work online worldwide. From there my business took off with a mind of its own. A little more than seventeen years later, over 1300 paintings completed, an a history of licensed products longer than I can count, I am still trailing helplessly as the Faeries drag me on in a seemingly endless rampage.
My passion to paint is like a living creature inside of me. All the ideas in my head churn and beg to get out. I'm driven to get them onto paper and out of my head as soon as possible. The characters move and speak in my mind. Snippets of stories flit through my mind while the paint dries. The quicker I can push their essence into the paper with my brush and banish them from my head, the better. Once I've conjured one creature, another is waiting impatiently for its turn.
Gradually the Faeries have evolved in the meaning for me...something more than the typical definition of Faeries being winged girls flitting around in the woods or at the bottom of the garden. They are often wise, majestic and beautiful. Sometimes they are terrible and cruel. They embody grace, mystery, wonder and miracles as well as despair, trickery and desire. Wings can be a symbol of freedom, enlightenment and spiritual growth, or power and strength. Horns and antlers hint at ageless wisdom and grace in some Fae and malice and cunning in others. Feathers signify free spirits or a dark and mournful nature. In the Faery realm, all things become possible and not all is what it seems.
My goal in my work has always been to capture a moment and offer that moment to the viewer to weave his or her own story. I want each piece to whisper, taunt and ti
ckle a reaction out of you!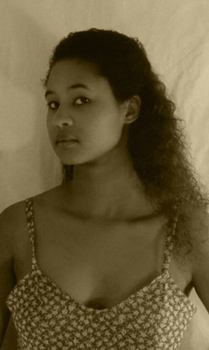 Giovanna Adams is an award winning full-time artist living in the beautiful hills of New England, with her husband and two little pixies. In 1989 she attended the Colorado Institute of Art. It was there that she was exposed to the early works of Charles deLint and the paintings of Brian Froud in his and Alan Lee's book "Faeries", both of which she considers a great influence in her art today. Over the years Giovanna has developed a passion for fantasy art and the world of fey and tries to convey with her art a sense of wonder and mystery. Giovanna's artwork is collected internationally and her images have been licensed for a variety of products sold worldwide.
She began painting faeries professionally in 2006 and later that year bagan to research faerie folklore in other countries across the globe and found the belief of the fey in all cultures of the world. She launched her ongoing "Faeries of Color" series, which depicts a culturally diverse world of the fey in 2007. Coming in the Winter of 2013, Giovanna will share with all faerie lovers her published exploration and artwork of the worlds fey, ending the belief that the fey realm exists only in the Anglo-Saxon world.
When not working on personal fey works, Giovanna also delights in writing and illustrating children and young adult books.